I Work With AI And Blockchain Technology—And I'm An Auditor At An Accounting Firm was originally published on WayUp.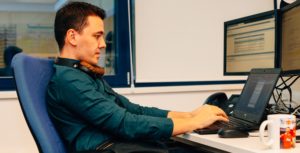 You might not associate the accounting industry with innovative technology, but these days, emerging technologies like AI, machine learning, and blockchain are making their way into many of the major firms' processes.
Getting to work with that technology has helped to automate and accelerate the more menial tasks involved in practices like auditing—as well as find new data points and patterns that enable modern accounting professionals to provide better insight to their clients.
We spoke to Steven Morrison, an audit partner at CohnReznick—one of the country's leading accounting, tax, and consulting firms—about the ways technology has changed the industry, and how many of the most basic practices of accounting are actually bolstered by new technology.
How AI, Machine Learning, And Blockchain Factor Into The Accounting Industry
As auditors, Morrison and his team handle a ton of data. The purpose of any audit is to provide an objective, third-party examination of financial records. For CohnReznick's clients, the audit is an essential step toward a myriad of important strategic decisions, establishing credibility with the public, and—ultimately—growing their businesses.
With so much on the line—and so much competition in the accounting industry—Morrison and his team employ a variety of technologies to increase efficiency and provide higher quality insights to CohnReznick's clients.
Machine learning and AI can help parse massive quantities of data, spotting patterns and, more importantly, anomalies. With hundreds of thousands of individual data points, the ability to use programs that call the attention of auditors to the most important focus areas can allow auditors to use their expertise and brain power to solve the toughest problems, rather than waste their time on painstaking manual entry and sorting of data.
CohnReznick, Morrison tells us, has a history of innovating and creating proprietary tools and software to create these sort of efficiencies. But some even more incredible advancements are coming down the line, with the use of blockchain ledgers becoming increasingly common.
The use of shared ledger technology—yes, the same technology that powers cryptocurrencies like Bitcoin and Ethereum—has similar time- and energy-saving effects, especially when it comes to reconciliation (the practice of comparing individually kept accounting records nd looking for differences).
While it's rare to see a client that has already adopted blockchain ledgers, Morrison says, the technology is certainly capable of changing the industry landscape in the future.
Becoming Tech-Enabled Accountants Means Looking Ahead—With A Focus On The Foundational Skills
That's something that's true of all these technologies, though. We're only on the cusp of understanding the potential impact of blockchain and artificial intelligence on so many areas of business and, Morrison tells us, that makes it a particularly exciting time to be entering the accounting industry.
"We're able to process certain data in different ways. We can improvise and adapt. It's not something that becomes push-button or robotic. We're still applying the same level of professional skepticism," Morrison says.
However, he tells us, "What our people spend their time on will likely shift to higher-level thinking."
That's actually one of the biggest misconceptions, Morrison says, about the role of technology in accounting. It's not replacing anyone's jobs or "automating" the core processes. At the end of the day, technology merely enables accounting professionals to focus on the part of their work that's most challenging and exciting, and that's why tech-enabled accounting is such an incredible development.
"I think it is a great time to be entering the CPA profession. There is a big appetite for 'what can we do better, faster, and more of,' and the more tools in the toolbox our staff has will present amazing opportunities," Morrison says. And it's up to you to figure out what to do with them.
Share a passion for tech-enabled efficiency and strategic insight? Check out open opportunities at CohnReznick on WayUp!
The post I Work With AI And Blockchain Technology—And I'm An Auditor At An Accounting Firm appeared first on Job and Internship Advice, Companies to Work for and More | WayUp Blog.